Over €9,000 in funding awarded to YSI teams throughout week of virtual events

Throughout the last week in March, a series of virtual events took place where the YSI Den panellists met teams who were selected to pitch, following successful application to the Den on the Speak Out platform.
There were three events held over the course of the week, a Dublin, Cork and Regional Den event. In all, 18 YSI teams presented to the Den panellists, whose areas of expertise ranged from public sector, media, education, NGO and private sector.
Teams from across the country presented their ambitious ideas for change on a range of issues including LGBTQ+ representation, fast fashion, poverty and inclusion, mental health, ASD supports, climate action, and plastic pollution.
The Den panellists offered a variety of supports to help teams advance certain aspects of their projects including financial aid, expert advice, and skill-sharing.

For the complete list of grants awarded, check out the Den 2022 page.


The excitement in the build-up was incredible. The students felt such a sense of achievement after. The judges were so encouraging and enthusiastic. The advice and funding were so greatly received.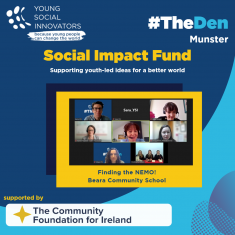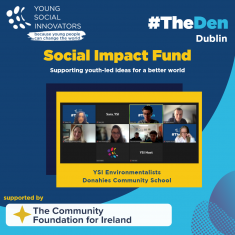 A huge thank you to our Den panellists who gave so willingly of their time and expertise for the event!
Rosie McDonagh, The Community Foundation for Ireland
Mary MacSweeney, Dublin City Council
Jamie Moore, Eirgrid
Jacky Casserly, The Community Foundation for Ireland
Peter McCarthy, Virgin Media
Susan O'Neill, YSI Local Leader
Anne O'Flynn, Virgin Media
Karen Fitzgerald, Cork City Council
Mella Magee, Cork Partnership
Jacqui Walsh, Rethink Ireland
Can I just say what a fantastic morning with YSI. The team is brilliant and really encourages young ideas and talent!
Social Innovation Den 2022