Innovative Food Waste Redistribution Scheme Wins Silver at YSI Ireland Awards 2022

Members of The Food Fund Winning Team pictured with the Silver Young Social Innovators of the Year 2022 trophy

Picking up the national Silver Award, the team from Terence MacSwiney Community College, Knocknaheeny, Co. Cork, was recognised for its The Food Fund project. The innovative project aims to reduce food waste and combat food poverty in the local community by redistributing unused meals to those in need.

The team was aware that food poverty was a very real issue affecting ordinary families across Cork and the students believed that leftover lunches in its school were a resource that could be used to help.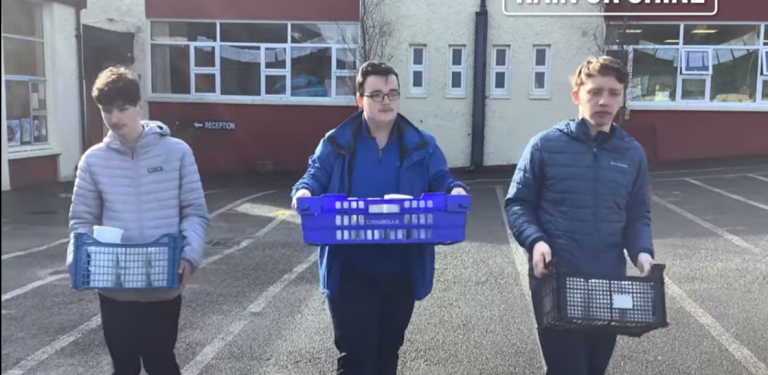 The team donated unused meals, sandwiches, biscuits, and fruit through Penny Dinners, a Cork-based charity, in an effort to keep this food out of landfill as well as to address real local need. The team has developed a prototype app to help manage and track donations.

They hope, in the future, that the app can be coded and made available free to download for other schools around the country who may be interested in the enterprise.

The team will receive a prize bursary of €1,000 which can be put towards developing its idea and increasing the impact of its innovation.
The students in our school come from 3 of the 4 areas identified for investment under RAPID. We live in a community with many social issues and know that the cost of living is going up. Some of our students have volunteered at Penny Dinners warehouse in Churchfield and we know they provide a valuable service in Cork City serving food to people who need it.
This year's programmes saw participation from 6,123 Irish teenagers and the development of 423 social innovation projects nationwide on a wide range of issues including health and wellbeing, diversity and inclusion, the environment and sustainability and much more. 35 shortlisted projects competed for YSI's Challenge Awards with a variety of innovative projects.
Young Social Innovators Co-Founder and CEO, Rachel Collier, said, "Each year, I am blown away by the passion and creativity of Ireland's youth. Every year we see future leaders creating social innovations and addressing the challenges we are facing at local, regional, national and international levels. These young citizens will help shape our economy, our culture and our future political arena. They have a huge part to play in shaping our future communities and society, and to be able to give them a platform to share their brilliant ideas is a huge honour. This generation, Gen Z show a great understanding of what can be achieved to create a more fair, inclusive, and sustainable society. It is truly humbling to witness such incredible passion and enthusiasm for important social causes impacting across generations. From all at YSI, we extend our sincere congratulations to today's new titleholders, along with each and every student who took part in projects throughout the year."