YSI Team Honoured at National Garda Youth Awards
A YSI team from Killarney Community College, Co. Kerry was honoured recently at the National Garda Youth Awards for the work they undertook to make their community more dementia aware.

The team was previously recognised at the Kerry Division Garda Youth Achievement Awards in January 2020 as well as at the Young Social Innovators of the Year Ireland Awards 2019 where they won a national award for their social media awareness campaign.
The team appeared on RTE Today as part of a focus on finalist teams nationwide, where they talked about their project and their achievments to date.
The team focused their YSI project on dementia as they felt that the disease and its consequences for the sufferer and wider family was a subject that not everyone was comfortable talking about.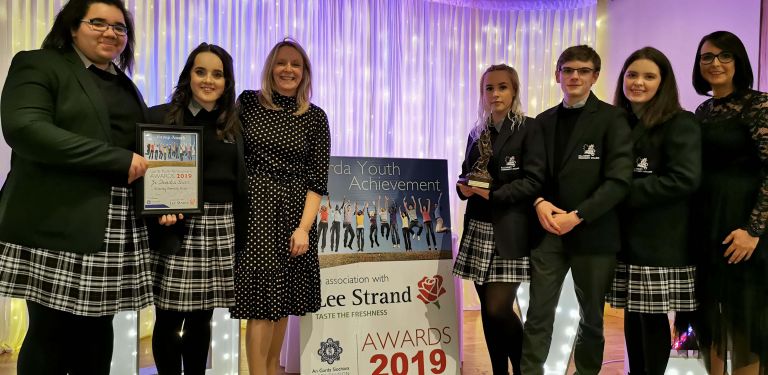 YSI Guide, Lorraine Crowley (far left) pictured with members of the YSI 'Be Dementia Aware' team at the Kerry Division Garda Youth Achievement Awards in January 2020.

They wanted to create an environment where communities were better able to support those living with dementia through increased awareness and understanding. They use the slogan 'Under the Umbrella' to describe their multi-faceted awareness campaign that covers the types, stages and symptoms of dementia as well as the importance of brain health and what to do if a loved one is diagnosed with dementia.

Read more about the team's National Garda Awards recognition here.