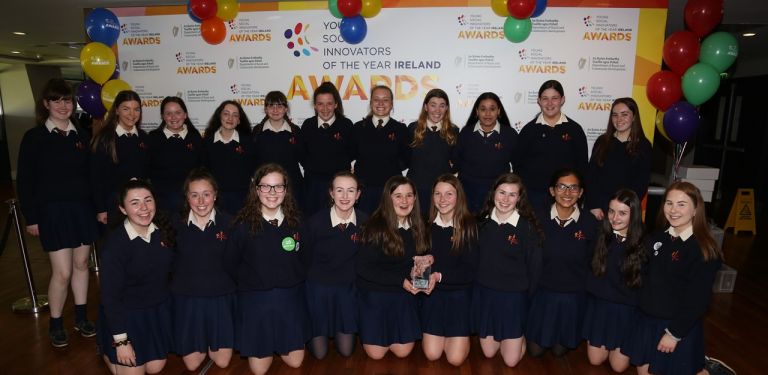 YSI Team Raises €1400 for Local Defibrillators
In 2019, students from Méanscoil Muire gan Smal in Roscommon Town wanted to make a difference in their local community.

Inspired by an interview they heard on the Ray D'Arcy Show about a young woman whose life was saved by a defibrillator, they created their YSI project 'Help Keep The Beat, So There's No Repeat' which aimed to secure defibrillators for their town and to raise awareness about their location and use.

The importance of a swift response to a cardiac arrest using a defibrillator was highlighted on a global stage recently when Danish soccer player Christian Eriksen collapsed during a Euro 2020 game against Finland. The timely actions of paramedics and the immediate availability of a defibrillator saved the footballer's life.

"We feel that this is a very important issue that can mean the difference between life and death, and it is a topic close to us, as there is a girl in our class with a heart condition" the team has said about their project.

As reported in the Roscommon Herald on June 29th 2021, the students raised €1,400 euro as part of their YSI project, through innovative fundraising actions such as a coffee morning and bake sale, and a charity soccer match between teachers and students in their school. Their efforts were further supported through the YSI Social Innovation Fund following a successful pitch at the YSI Den in February 2019.

One of the most innovative responses by the students was the design of a map displaying all of the locations of defibrillators in Roscommon Town, which includes Corrib Oil, Gleeson's Townhouse, Casey's and Roscommon Golf Club. The team distributed their map to hundreds of businesses and premises around the town to ensure that residents were aware of their nearest defibrillator location should they ever find themselves in an emergency situation.

One of the team members, Michelle Hanley, told the Roscommon Herald "We felt people may not know where the closest defibrillator is to them, so we thought the map would be a good idea".

Although the students had decided to split the money they raised between Roscommon Rapid Response and the Roscommon Lions Club back in 2019, due to COVID19 restrictions they have only recently had the chance to present the funds to these organisations. The aim of Roscommon Rapid Response is to provide a Community Emergency Response System which will enable as many cardiac arrest victims in County Roscommon to survive as possible.

In the future, the team members want to continue to advocate for more CPR and defibrillator training for students in school and for local businesses, saying "We want to spread awareness about the need for defibrillators and useful CPR skills around our town in case of an emergency".