Mend A Mind, Largy College, Monaghan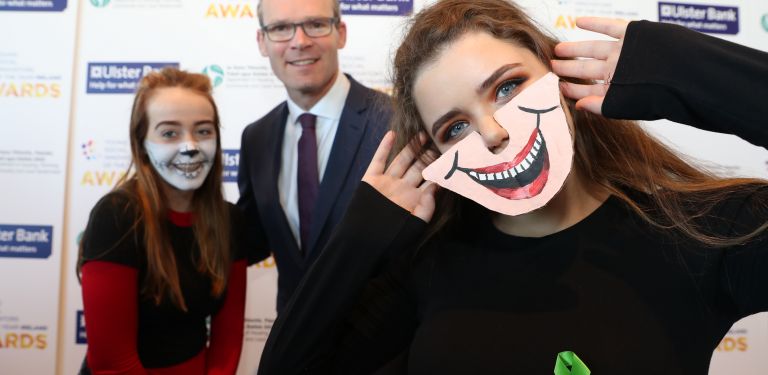 Concerned about the stigma and secrecy surrounding mental health issues and their impact on people affected, these inspirational teenagers embarked on a journey to deliver a strong message: there is no shame in talking about mental health.

Their journey would ultimately lead them to win the title of Young Social Innovators of the Year in 2017, along with entry into the YSI Elevate Network to continue to spread their message, but it all began in their classroom in Largy College in Clones, Monaghan, where they were determined to take on and get rid of that shame. Working with a wide range of organisations, individuals and professionals in the area of mental health, the team undertook a multitude of activities to promote their message. Their community event, 'Lighting Up the Darkness', attracted 500 walkers and every house along the route placed a candle in their window to show solidarity with people living in darkness; a powerful statement for their community.

Another community wellbeing event promoting physical activity, good nutrition, relaxation and socialising as key facets of good mental health received huge support from local businesses, clubs and organisations. The event featured guest speakers, cookery demonstrations, yoga and meditation, comedy performances, a bounceathon, and a tearoom promoting and encouraging 'conversation over a cuppa'.
We wanted to be a beacon of light for our family and friends who are in a dark place.
The team used video to extend the reach of their message far beyond their community. Their original short film, illustrating the impactful poem 'Explaining My Depression to My Mother', reached over 27,000 people online and was shortlisted for St. Patrick's University Hospital film competition. Other films they produced include Anxiety - Mend A Mind and When the Fat Girl Gets Skinny.

A positive mental health calendar, a strong social media campaign, workshops for primary and secondary students, and a range of other creative activities combined to achieve significant impact in their community.

The passion of these young people was evident to the judges at the Young Social Innovators of the Year Awards, and their incredible efforts for change won them the Gold Award. Their journey didn't end there, however, as they were then invited by Young Social Innovators to join the Elevate Network, so they could continue to increase their impact and fulfil their mission to take the shame out of mental health issues.