Growing Youth Participation
About this Project
"Growing youth participation through Social Innovation education in communities in Ireland" is a special initiative supported by Tomar Trust and the Department of Education and Skills to enable Young Social Innovators to expand social innovation programmes to 50% of post primary schools in Ireland. New partners now include Cork City Council and Dublin City Council who are supporting the expansion of youth-led social innovation in their areas.

The ambition is that every teenager will have an opportunity to engage in social change and innovation so that their voices, ideas, insights and actions will contribute to addressing challenges at local and national level. This ambition is shared within the Programme of Government 2020.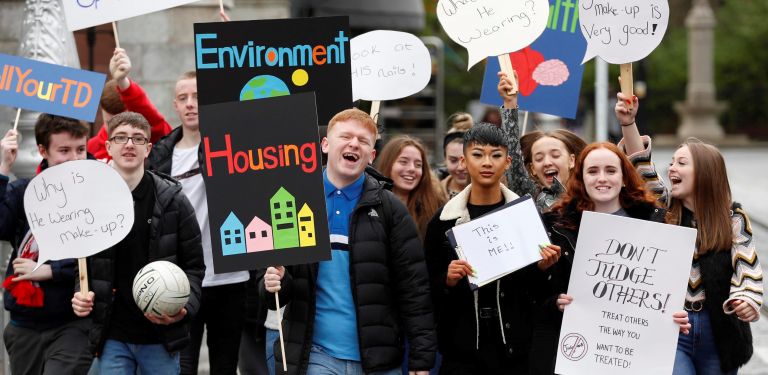 This is an ambitious, exciting and multi-dimensial project supported by a team of YSI Local Leaders around the country. Over the coming years, YSI aims to facilitate increasing numbers of young people to engage in social change and innovation, working together and co-creating responses to local and regional issues.

Our goal is for social innovation programmes to be available to students in at least 50% of Ireland's post primary schools by 2024. We are creating strong regional networks and partnerships amongst schools, local government, businesses and community organisations, in an effort to facilitate youth-led social innovation at local level on an on-going basis.

If successful, this initiative will contribute greatly to the development more creative, resilient, caring and sustainable communities where local populations are equipped and empowered to address the challenges of the day harnessing the voice, ideas and talents of our youth. It is building much needed social capital using the power and talents of our young people to create local eco-systems in which social innovation can thrive with young people at their core.
The importance of social innovation has never been greater as we face new and ever emerging social challenges. We want to prepare our young people for the world they will inherit and to empower them to become responsible leaders respecting and valuing people, communities and the environment.
If you would like more information on this project or, for ways you can help support this vision, we would be delighted to hear from you. You can contact us by email or phone at educate@ysi.ie or on 01 645 8030.