Programme Overview
Overview
A fun introduction to social innovation for younger students empowering them to make a difference to the world around them while building innovation and entrepreneurial skills. Students will join others from around the world in sharing their stories of change.
Who's it for?
Children in Primary Level between the ages of 10-12 years (4th, 5th and 6th class).
Duration
8-10 hours and scalable
Dates
September 2023 - May 2024
Cost
€100 per school per annum. To include teacher CPD and support, access to programme resources and certification.
About the Programme
YSI's Design for Change programme offers an early introduction to social innovation for children at Primary School Level. Using the international FIDS (Feel, Imagine, Do, Share) Framework adopted in over 60 countries, children are supported to develop an I CAN mindset and put their creative ideas into action to solve a social challenge. Through this programme, children learn to be innovators in the best possible way - by doing it!
Young Social Innovators is the Ireland Country Champion of Design for Change Global since 2018.

Why do it?
This YSI programme empowers students to make a difference to the world around them beginning with their own community. Students from Ireland join thousands of others globally who are working to build a more fair, caring and sustainable world. Stories of change created by children are shared on a global platform thus creating a strong sense of global citizenship and solidarity. The 4 part programme follows the FIDS Framework) and contains fun lesson plans to support children through each stage of the FIDS journey.

Aligned with the Primary School Curriculum and statements of learning, this programme is suitable for 5th and 6th class pupils at primary level across a range of subjects: literacy, numeracy, SPHE, visual arts, and SESE. This programme also aligns well with a range of school patronage.
Fids for Kids
FIDS (Feel, Imagine, Do, Share) is inspired by design thinking and innovation learning. Developed in India by Design for Change founder, Kiran Bir Sethi, from the Riverside School in Ahmedabad, India, it is now used by teachers around the world to facilitate children to develop solutions to issues impacting them and their communities.

To learn more about FIDS, click the Feel, Imagine, Do and Share links below:
How it's delivered
The programme is facilitated by trained educators (YSI Guides) who support students and help them to create and implement a small action project on a social issue they care about. Supported by teacher training and world-class resources, the programme offers a wonderful introduction to social innovation developing essential 21st century skills in children and building their social and emotional competencies.
How it works
Teacher registers to take part in the programme
Teacher invited to attend regional/online training
Teacher accesses suite of online programme resources
Students form a team, select an issue they care about and create a social innovation project around it, bringing their ideas to life
Teams showcase their project locally as part of YSI Week (April)
Teams submit an online project report and share their story with Design for Change teams around the world
Teams receive certification from Young Social Innovators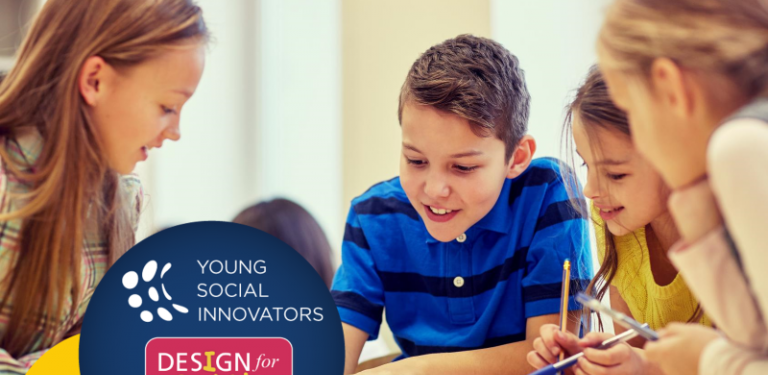 Programme Benefits
Supports subject integration and cross-curricular learning
Students are encouraged to incorporate science, technology, engineering, maths and the arts (STE[A]M) into their projects
Promotes wellbeing and empowers youth voice
Promotes learning around global issues and global citizenship
Facilitates active engagement of children in the local community
User-friendly online teacher resources and ongoing support
Dedicated professional development workshops for teachers
Certification for students on programme completion